UK firms 'excluded' from space contracts by Brexit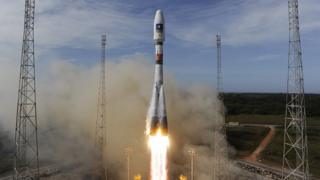 UK aerospace firms have said they are being excluded from bidding for space contracts because of the Brexit vote.
Contracts for the European navigation satellite system, Galileo, were being particularly affected, Simon Henley of the Royal Aeronautical Society said.
Mr Henley's comments came as he spoke to MPs on the Business Committee.
The head of the ADS aerospace trade body also warned MPs that if the UK was to leave the EU without a deal, it would be "chaotic" for the industry.
ADS chief executive Paul Everitt said: "No deal would be the worst possible outcome, from an industry point of view. We believe that would be chaotic, and unhelpful for this particular sector, and a number of others."
'Holding pattern'
Speaking to MPs, Mr Henley said: "We have had companies now reporting to us they are being excluded from bidding for contracts.
"Although membership of the European Space Agency is not part of the EU discussions because it is not an EU body, many of the contracts, including Galileo, are EU funded.
"And it's a requirement that the companies that participate and get funding for their contracts are part of an EU country, so we are already seeing contracts being turned away from UK industry."
The space industry is worth about £14bn to the UK, with about 40,000 direct employees, according to the Aerospace, Defence, Security & Space (ADS) industry group.
ADS chief Mr Everitt told MPs there had been particularly fast growth in the sector thanks to growth in the market for satellites, which was due to projects such as Galileo.
In the wider aerospace industry, Mr Everitt said Brexit uncertainty was having an effect on investment.
"We are not faced with huge new investment decisions. We've seen some good and positive decisions for the UK, but they were taken prior to the referendum.
"At the moment, and excuse the pun, everyone's in a bit of a holding pattern, because they are trying to sweat their assets for as long as possible before they commit to new investment."