Uber agrees investment deal with SoftBank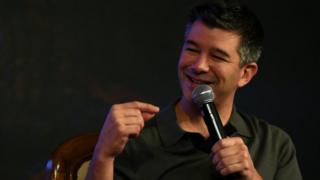 A group of investors led by SoftBank is taking a large stake in Uber in a deal that turn the ride-hailing company's founder into an official billionaire.
Uber said it has closed the deal with the consortium, which is purchasing $1.25bn in new shares and a large number from existing shareholders.
Uber founder Travis Kalanick, who stepped down as chief executive in June, is reportedly one of the sellers.
The consortium will have a 17.5% stake in the company.
As part of the deal, Uber's board has expanded from 11 to 17 directors, with Softbank's investor group taking two of the new seats.
The infusion of money comes as Uber concludes a difficult year, in which it faced a sexual harassment scandal, investigations by regulators and a lawsuit over allegedly stolen technology.
It also continues to experience steep losses.
In a statement on Thursday, Uber called the deal a "great outcome for our shareholders, employees and customers, strengthening Uber's governance as we double down on our technology investments and continue to bring our services to more people in more places around the world".
The consortium includes Dragoneer Investment Group and SoftBank, a Japanese conglomerate that has been making a series of increasingly high-profile technology investments.
The firm has shown an appetite for investments in ride-sharing, backing China's Didi Chuxing and Southeast Asian taxi-hailing app Grab, among other companies.
SoftBank represents about 15% of the new group's stake.
---
Analysis – Dave Lee, BBC North America technology reporter
If you believe in karma, look away now.
Uber's chief executive Travis Kalanick is a man who presided over a rampant culture of sexism, the covering up of a major hack, spying on journalists and, allegedly, the theft of trade secrets from Google. To name but a few.
And by close-of-play on Thursday, he'll be taking home more than $1bn from this transaction.
On the other hand, the finalising of this massive deal will see Mr Kalanick's powers reduced. He's selling 29% of his shares, and Softbank, the Tokyo-based group which seems to be taking a stake in every bright idea in Silicon Valley, will gain two seats on Uber's board.
The cash injection, of $1.25bn, will offer both a boost and a cushion as Uber looks to continue its loss-heavy strategy to grow in just about every city and major town in the world.