TSB appoints Debbie Crosbie as new boss after IT fiasco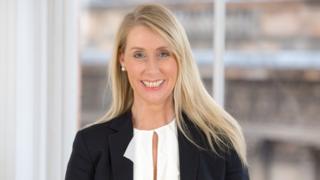 TSB has appointed Debbie Crosbie as its chief executive, replacing Paul Pester who resigned in September after this year's IT meltdown at the bank.
In April, almost two million customers lost access to online banking services after the bungled introduction of a new computer system.
Ms Crosbie will join TSB in 2019, after 20 years at Clydesdale and Yorkshire banking group (CYBG).
She is also currently deputy chief executive of the Scottish CBI.
Richard Meddings will continue as executive chairman until Ms Crosbie's appointment receives regulatory approval and she takes up her new role. At that point he will return to his previous position as non-executive chairman.
Mr Meddings said: "In an impressive field of candidates, Debbie stood out. With over two decades of experience, superb retail and SME [small and medium sized] banking expertise, and a genuinely open and engaging style of leadership, we have found an outstanding new CEO".
He added that her appointment was another step forward in completing "the work of putting things right for customers".