Trump ramps up GM threats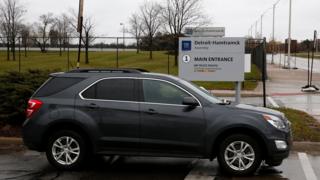 US President Donald Trump has escalated his attack on General Motors (GM) after the carmaker's announcement of major job cuts.
Mr Trump wrote on Twitter that he was "very disappointed" and "looking at cutting all GM subsidies, including … for electric cars".
It was not immediately clear what subsidies he had in mind.
GM's decision to halt production at factories in the US and Canada has angered many politicians.
For Mr Trump in particular, the cuts are a blow, as he has made rebuilding the US auto industry one of his administration's priorities.
The BBC has contacted GM for comment on the president's remarks, and is waiting for a response.
Government assistance
The firm's electric vehicles are eligible for wider tax credit program offered by the federal government.
It also benefited from taxpayer assistance during the financial crisis and has received federal grants worth hundreds of millions of dollars in recent years, according to a database maintained by Good Jobs First, a non-profit that tracks corporate subsidies.
That bailout has been cited by Mr Trump and leaders of labour unions, who have called on GM to direct new business to factories where the firm intends to halt production, instead of closing the plants.
GM announced a global restructuring on Monday, which includes shutting eight factories and cutting 15% of its salaried workforce.
As part of the restructuring, it will halt production at four factories in the US and one in Canada, as it phases out certain models of slower-selling cars.
The move, which follows a slowdown in auto sales, is likely to lead to the loss of more than 14,000 jobs in North America, including over 6,100 shift workers at the plants.