Toys R Us troubles put 3,200 jobs at risk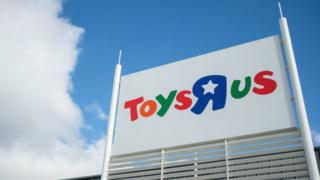 Toys R Us is facing an uncertain future in the UK after it was told to put £9m into its struggling pension fund by the Pension Protection Fund (PPF).
It has to come up with the money by Thursday in order for the PPF to agree to the retailer's restructuring plan.
Earlier this month, Toys R Us said it would close at least 26 UK stores, leading to the loss of up to 800 jobs, as part of the plan.
Failure to agree a deal could put all its 3,200 staff at risk of redundancy.
That plan is part of a proposed company voluntary agreement (CVA), which allows the firm to restructure its finances.
If the CVA does not go through, the company could fall into administration.
Retail consultant Richard Hyman told the Today programme: "This is a real Catch 22 situation."
Malcolm Weir, director of restructuring and insolvency at the PPF, said: "We continue to work closely with the trustees of the Toys R Us pension scheme and externally appointed advisors given the current CVA proposals.
"The pension scheme is already underfunded and, if we were to vote in favour of the CVA, we would need actions taken that ensure the position of the pension scheme was not going to further weaken."
Mr Hyman added that the PPF was "upping their game" after being criticised for its handling of the closure of BHS.
"They are becoming much more pro-active, but this pro-activity might hasten the demise of Toys R Us itself," he added.