Top Federal Reserve official departs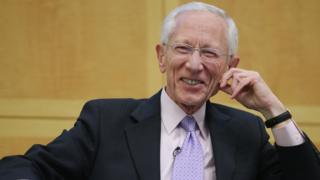 One of the top bankers at the US Federal Reserve said he will retire next month from its governing board, citing personal reasons.
The resignation of Stanley Fischer, 73, creates another vacancy on the council that oversees the US central bank.
Three spots on the seven-member board were already vacant.
The term of Federal Reserve Chair Janet Yellen is also due to expire in 2018 and it is unclear whether President Donald Trump will reappoint her.
The openings provide Mr Trump with an opportunity to make a mark at the central bank, which sets key economic policies.
In July, he nominated investor Randal Quarles to fill one of the vacancies.
Mr Fischer had served on the board of governors since 2014. His term as vice-chair was set to expire next year.
A longtime professor of economics at the Massachusetts Institute of Technology, Mr Fischer previously was a governor at the Bank of Israel and vice-chairman at Citigroup.