Tesla makes more Model 3s as revenue jumps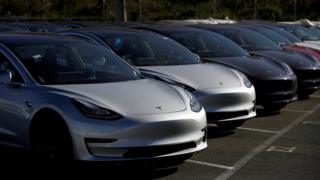 Tesla delivered more of its Model 3 cars in the most recent quarter, helping to boost revenues.
Elon Musk's electric car company had revenues of $4bn in the three months to June, rising 43% from the same period last year.
The growth came as Tesla delivered more than 40,000 cars in the quarter, including about 18,000 Model 3s.
However, the firm still lost more than $717m in the quarter – more than double a year ago.
Tesla has been spending heavily as it works to get the Model 3, its latest car, into customer hands.
Tesla said it hit its goal of making 5,000 Model 3 sedans a week "multiple" times in July, and aimed to produce 50,000 to 55,000 in the third quarter.
Tesla said higher Chinese tariffs on US-made cars, imposed as part of a bigger trade dispute, are likely to hurt sales there. But the firm told investors it would shift its focus to Europe and North America "if necessary" to avoid any major impact.
The firm has also cut staff and other expenses in an effort to boost profitability. Capital expenditure is expected to fall $900m to about $2.5bn this year.
Tesla ended the quarter with $2.2bn in cash and cash equivalents. It said it remained confident it can follow through on its promise to turn a profit in the second half of the year.
Tesla shares rose more than 4% in after-hours trading in New York.