Stock markets brace on stronger US inflation data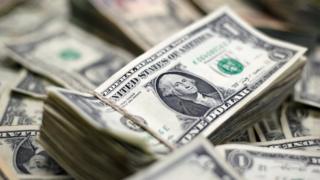 US inflation rose faster than expected in January, stoking fears that interest rates rises will accelerate this year.
The Consumer Price Index measure of inflation grew by 0.5% against economists' forecasts of a 0.3% rise.
Earlier this month a report showed accelerating US wage growth. That raised concerns that the US Federal Reserve will have to raise interest rates earlier than previously thought.
The report on wages triggered days of volatility on the financial markets.
The US Bureau of Labour Statistics said there had been inflation across a number of areas including gasoline, clothing, medical care and food.
Over the the 12 months to January inflation remained at 2.1%.
Mitul Patel, head of interest rates at Janus Henderson Investors, said that figure was a "surprise" as economists had been expecting it to ease to 1.9%.
Luke Bartholomew, an investment strategist at Aberdeen Standard Investments said: "There's a risk that this could pour fuel on the fire of last week's market sell off.
"That boiled down to real sensitivity to the prospect of higher inflation that markets had anticipated. That nervousness is not going away."