Sterling stabilises as May prepares minority government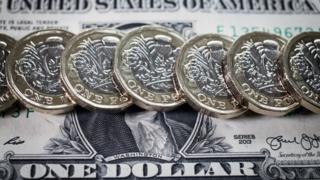 The British pound has stabilised on Asian markets, remaining at its low after last week's shock election results in the UK.
The currency traded at $1.2740 early on Monday after Friday's $1.2743 close.
Analysts suggest the likelihood of a minority Conservative government might stave off further falls in the currency.
Prime Minister Theresa May is in talks with the Democratic Unionist Party to support her administration.
Last Thursday's snap general election saw Mrs May lose her majority, throwing the country into political uncertainty.
She had been hoping to increase her majority ahead of the upcoming Brexit negotiations with the European Union.
On Friday, the British currency reacted to the vote by sliding 1.7%, its biggest one-day drop in about eight months.
Confidence drop
The uncertainty caused by the election result has also led business confidence to sink "through the floor", according to one lobby group.
A snap poll of 700 members of the Institute of Directors found a "dramatic drop" in confidence following the hung parliament.
The loss of the Conservatives' majority in the House of Commons has led Theresa May to seek the support of MPs from Northern Ireland's Democratic Unionist Party to govern.
The DUP, which has 10 MPs after the election, has garnered a reputation for its strong and controversial views on a number of social issues.
'Struggling in a vortex'
Global currency markets watching how the UK's post-election uncertainty pans out will likely focus on what it means for the country's exit from the European Union.
Negotiations with Brussels are due to begin next week, with the outcome expected to have a significant impact on the economies of both the UK and the EU.
Mrs May has been pushing for a so-called hard Brexit – where the UK leaves the EU single market and the customs union – instead of a softer Brexit, where the UK would maintain the benefits of those associations.
"Certainly, prolonged uncertainty would argue for a deeper correction on sterling as May's diminished Brexit mandate scenario plays out," said Stephen Innes, senior trader at Oanda.
"However, there are cooler heads in play suspecting the only real option left is the more market-friendly outcome where the UK adopts a European Economic Area styled agreement. So, expect markets to struggle in the vortex of near-term possibilities clashing with longer term probabilities."