Sterling sinks as shares edge higher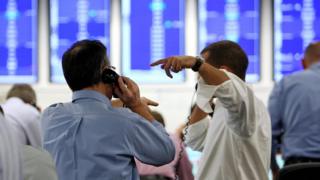 London's leading shares rose in early Friday trading as sterling continued to sink on election uncertainty.
The pound was down 0.19% against the dollar at $1.2858 and 0.24% lower against the euro at 1.1462 euros.
Recent opinion polls have cast doubt on earlier forecasts of a landslide win for the Conservatives on 8 June, although the picture remains unclear.
Meanwhile, the FTSE 100 went up 47.71 points or 0.63% in the opening minutes to reach 7,591.48.
A weak pound tends to boost the 100-share index, since many of the firms included are multinationals that derive much of their income from abroad.
These overseas sources of income are worth more when translated into sterling, thus boosting their profits.
However, mining stocks, which tend to dominate this category, had a mixed performance. Anglo American was one of the top gainers, up 1.5%, but Fresnillo and Randgold fell 0.6% and 0.5% respectively.
The FTSE 100 finished Thursday higher, but not at a new record.
The index rose 23.82 points to 7,543.77.
Bus and rail operator First Group saw its share price tumble 5% on Thursday after giving a cautious trading outlook.
It was the biggest loser on the FTSE 250, despite reporting a 23% rise in pre-tax profits to £207m for the year to the end of March.
The FTSE 250 closed up 38.45 points at 20,010.62.
Amongst FTSE 100 companies, Bookmaker Paddy Power led the risers, up 4.34% at £84.20. Housebuilder Taylor Wimpey was the biggest faller, down 6.45% at 190p.
At the start of the day, Barclays had topped the FTSE 100's list of gainers after announcing that it had sold off a bigger stake than expected in its African unit.
However, by lunchtime it had fallen back and closed just 0.5% higher on the day.
The share sale brought in £2.2bn for Barclays and reduces its stake in Barclays Africa to about 15% as the bank refocuses on the UK and US markets.