South Korea to help firms hit by China curbs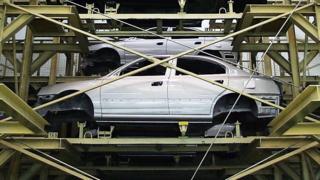 South Korea will provide support to companies hurt by trade sanctions imposed by China over the deployment of a powerful defence system.
On Thursday, the government said it would offer cheap loans and the option to defer corporate taxes to some firms.
The car and tourism sectors have been hit by boycotts enforced by Beijing on South Korean goods.
The trade curbs came in retaliation for a shield deployed by the United States to protect South Korea.
The Terminal High Altitude Area Defense (Thaad) system was installed to earlier this year to guard against North Korea's shorter-range missiles
The move has drawn fierce criticism from China, which says the system's powerful radar will be used to spy on its territory. In response, Beijing imposed boycotts on South Korean goods traded in China.
The corporate relief outlined on Thursday aims to shore up the losses suffered due to the trade curbs.
South Korea's government will allow duty-free firms and other retailers operating in China to defer all or part of their corporate income and value-added taxes for up to nine months, the finance ministry said.
It will also offer cheap loans to car-component makers hit by declining sales of South Korean vehicles in China.
Hyundai Motors sales slumped 29% in China, the world's biggest car market, during the first half of the year, partly due to the Thaad backlash.
Tourism relief
The government also said it planned to boost domestic tourism to offset falling rates of Chinese visitors, which has dealt a multi-billion dollar blow to the local economy.
The number of Chinese tourists, which used to account for about 50% of all visitors to South Korea, halved in the first seven months of the 2017, compared to a year earlier.
According to data from the Korean Tourism Organisation, that translates to $5.1bn in lost business for South Korea.