Scottish Power to use 100% wind power after sale to Drax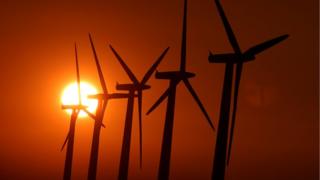 Scottish Power will become the first major UK energy company to generate all its electricity from wind power instead of coal and gas, after selling its final gas and hydro stations to Drax.
Power company Drax has paid £702m for the rest of Scottish Power's traditional generation business.
Scottish Power is planning to invest £5.2bn over four years to more than double its renewables capacity.
Chief executive Keith Anderson said: "This is a pivotal shift for us."