Saudi summit website attacked by hackers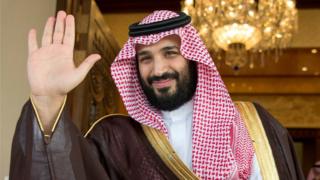 A website for an upcoming conference in Saudi Arabia is inaccessible after apparently being attacked by hackers.
Pictures circulating on Twitter show the Future Investment Initiative website with a mocked-up photo of the country's ruler about to execute Saudi journalist Jamal Khashoggi.
Messages on the picture accuse the Saudi government of funding terrorism.
The summit has seen a series of high-profile dropouts amid allegations the country was behind Khashoggi's killing.
Khashoggi, a prominent critic of the Saudi government, vanished on 2 October after visiting the Saudi consulate in Istanbul, where Turkish officials allege he was murdered.
Earlier on Monday, Saudi Arabia blamed Khashoggi's death on a "rogue operation"
Dubbed the "Davos of the Desert", the three-day event from 23 to 25 October in the Saudi capital, Riyadh, is organised by Saudi Arabia's sovereign wealth fund and is an opportunity for firms to build relationships and secure lucrative contracts in the Kingdom.
Dropouts rise
It is being hosted by Crown Prince Mohamed bin Salman to promote his reform agenda.
Politicians and business executives from Europe, North America and Asia were on the attendance list, which was set to feature 150 speakers from 140 organisations.
But a raft of big names have pulled out, arguing that Saudi Arabia's explanations for Khashoggi's disappearance are not credible.
US Treasury Secretary Steve Mnuchin and UK International Trade Secretary Liam Fox, whose countries have huge defence deals with Saudi Arabia, have already pulled out of the summit.
Company bosses including HSBC chief executive John Flint, JP Morgan boss Jamie Dimon and Standard Chartered chief executive Bill Winters have also said they will not attend.
Car manufacturer Ford, ride-hailing app Uber and media firms including Bloomberg, CNN and the Financial Times have also scrapped plans to attend.
On Monday, Siemens boss Joe Kaeser was the latest high-profile name to withdraw from the conference, saying the official explanation for Khashoggi's murder was "hard to believe".
Organisers have taken down a list of speakers from the conference's website. On Monday, they refused to confirm the number of people attending.
One government source said the list of speakers and moderators was not yet finalised, as many continued to drop out at a "rapid pace".
The World Economic Forum, which organises the official annual high-profile gathering in the Swiss resort of Davos of the rich, powerful and famous every January, has objected to the Saudi Summit's use of its Davos brand.
It said it would use "all means to protect the Davos brand against illicit appropriation".