Ryanair wins court bid to block Irish strike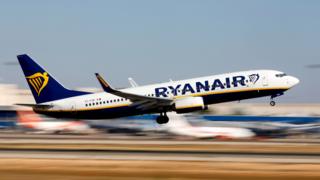 The High Court in Dublin has blocked a proposed strike by Ireland-based Ryanair pilots on Thursday and Friday.
Ryanair's lawyers in Ireland told the court that the pilots union, which represents around 180 Ryanair pilots, had not let talks reach a conclusion before announcing the strike.
A London court is still hearing an urgent attempt by the airline to block a much larger strike by British pilots.
A judgement at that hearing is expected imminently.
In a tweet, Ryanair welcomed the judgement from the Irish court.
It said all Ryanair flights from Irish airports would now take off as normal.
The airline had previously warned that the union would put holidaymakers' travel plans at risk if the strike went ahead.
Justice McDonald told Dublin High Court that he would restrain the pilots' union, Forsa, "from directly or indirectly, organising, directing or endorsing" a strike by its members on Thursday and Friday.
Forsa's lawyers had told the court that Ryanair had been "curt and dismissive" of a 30-page proposal it submitted to the airline on pay and conditions.
Earlier in August, Ryanair pilots in the UK and Ireland voted to strike in a row over pay and conditions.
The British Airline Pilots Association (Balpa) announced two 48-hour walkouts, one from 22-23 August and another from 2-4 September.
About 180 Ryanair pilots based in Ireland were also set to strike on Thursday 22 and Friday 23 August.
But Ryanair turned to the courts in London and Dublin in a bid to block the industrial action, prompting Balpa to accuse the airline of "bully boy" tactics.
"If they think they can legally bludgeon us and their pilots into submission they are wrong," Balpa general secretary, Brian Strutton, said at the time.
"This is a waste of time and money that would be better spent trying to resolve the dispute."
When Balpa announced the planned industrial action, Ryanair responded saying the "ill-timed" strikes would endanger pilot jobs.
But Captain Tilmann Gabriel, a former pilot who teaches aviation management at City University, told Radio 5 Live that pilots were in short supply with 800,000 needed over the next two decades.
"That means we need to produce… 110 pilots every day [for] the next 20 years and we are producing much less," he said. "So of course the price goes up."
But he said some pilots may be able to fill in during strike action.
"Ryanair, of course has pilots based all over Europe and only the British Airline Pilots' Association-related pilots are threatening strike action tomorrow and the day after so they have a lot of opportunities to use other crews and other aircraft bases across Europe to do these flights."