Rising fuel prices spur inflation in May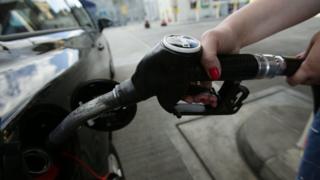 Inflation remained at 2.4% in May, according to the Office for National Statistics (ONS), after its fall was halted by a sharp rise in fuel costs.
The ONS said that fuel prices increased by the biggest monthly amount since January 2011, rising by 3.8%.
Mike Hardie, head of inflation at the ONS said: "Recent large rises in the cost of crude oil have fed through to prices paid by consumers at the pump."
Inflation has been falling since November last year.
The ONS said petrol prices rose by 4.6p per litre between April and May 2018 to 125.3p – the highest since October 2014 – while diesel prices are 4.7p higher.
"These recent rises reflect increases in the price of crude oil," said the ONS.
The rise in fuel prices was offset by a fall in "recreational and cultural goods and services", in particular computer games.
The ONS said: "Prices for these games are heavily dependent on the composition of bestseller charts, often resulting in large overall price changes from month to month."
It also said food prices dragged on inflation, specifically products such as sugar, jam, syrups, chocolate and confectionery.
Average petrol and diesel prices are their highest since August 2014. RAC, the motoring organisation, has said that the current fuel prices cannot be justified and should be cut.
However, the Petrol Retailers Association blamed volatile wholesale fuel costs as well fluctuations in the dollar against sterling.
Inflation remains below wage growth, despite a fall to 2.8% in the three months to April from 2.9% in the period to March.
Ruth Gregory, senior UK economist at Capital Economics said oil prices are expected to fall later this year and overall "the inflation figures have not altered our view that the [Bank of England's] MPC will probably press ahead and raise interest rates in August".