Rescue plan for Patisserie Valerie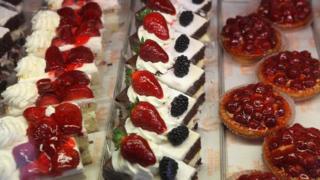 Patisserie Valerie has been saved from collapse after entrepreneur Luke Johnson, who owns 37% of the company, offered up to £20m in loans to the struggling chain.
Mr Johnson has offered £10m in a three-year loan which the company said would provide "immediate liquidity".
He has also offered a further bridging loan facility of up to £10m.
At the same time, the firm is also looking to raise another £15m by issuing new shares.
The cafe chain is fighting for survival after revealing on Wednesday it had uncovered "significant, and potentially fraudulent, accounting irregularities".
On Friday, the company said its finance director Chris Marsh had been arrested and released on bail.