RBS pays first dividend in 10 years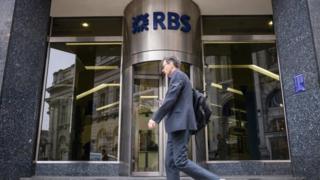 Royal Bank of Scotland has paid its first dividend to shareholders since the bank was brought to the brink of collapse in the 2008 financial crisis.
The bank – which is still 62% government-owned – has paid a 2p dividend to investors, which include about 190,000 private shareholders.
RBS chief executive Ross McEwan said the payment was an "important milestone" in the bank's turnaround.
The bank received an emergency £45bn bailout from the taxpayer in 2008.
Earlier this year, the government sold a tranche of RBS shares at 271p each, almost half the 502p a share it paid for them 10 years ago.
'Smaller, safer bank'
RBS had said in August that it intended to pay a dividend, as soon as it had completed its $4.9bn (£3.8bn) settlement with the US Department of Justice over mortgage-backed securities.
Announcing the payment of the dividend, Mr McEwan said it was "a small return" to shareholders "after their many years of patience".
"This is another important milestone in our turnaround, almost 10 years to the day that RBS was rescued by the British taxpayer," he said.
"We have created a smaller, safer bank that is generating more sustainable profits. Our capital position is above our target and we are also looking to return any excess capital as soon as possible to shareholders."
Earlier this week, Mr McEwan told the BBC that while RBS's finances may now be fixed, there remained a long way to go in terms of rebuilding levels of trust in the bank.
"I think it will take five – maybe even 10 – years to rebuild trust to where we'd want it to be," he said.