Rail fares to rise by 3.1% in January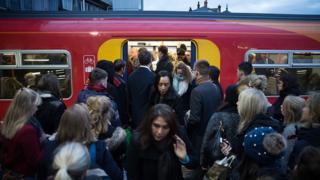 Millions of commuters will have to pay an average of 3.1% more for rail tickets from 2 January.
The increase, which is slightly higher than the 2.9% rise for this year, means another £100 on the cost of season tickets for many commuters.
The rise, announced by industry body the Rail Delivery Group comes after a year of timetable chaos, strikes, and delays on some parts of the network.
The increase affects about 40% of fares, including season tickets.
The rise is regulated by the UK, Scottish and Welsh governments and is predominantly capped at July's RPI figure, which was 3.2%.
There had been calls for prices to be frozen following chaos caused by the implementation of new timetables in May.
Rail Delivery Group chief executive Paul Plummer said: "Nobody wants to pay more to travel, especially those who experienced significant disruption earlier this year.
"Money from fares is underpinning the improvements to the railway that passengers want and which ultimately help boost the wider economy."
The RDG said train companies will introduce 7,000 new carriages, supporting 6,400 extra services a week by 2021, meaning more seats on more reliable, comfortable and frequent trains.
Fewer than half (45%) of passengers are satisfied with the value for money of train tickets, according to a survey by watchdog Transport Focus.