Peugeot in talks to buy Vauxhall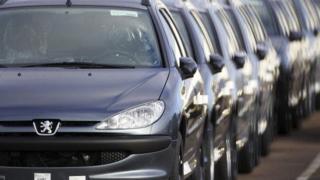 French carmaker PSA says it is considering taking over General Motors' (GM) European Opel business.
PSA – which makes Peugeot, Citroen and DS cars – and GM already share production of SUVs and minivans.
The French government holds a 14% stake in PSA, as do the Peugeot family and Chinese firm Dongfeng Motor.
Any deal would include Opel's UK affiliate Vauxhall, and create a carmaker with about 16% of the European market.
Vauxhall employs about 35,000 people in the UK, including 4,500 working at its manufacturing plants in Ellesmere Port and Luton, and at its warehouse and head office in Luton.
Its customer centre in Luton employs 300 people, and 120 people work at its On Star headquarters. Another 23,000 work in its retail network and 7,000 in its UK supply chain.
'Potential acquisition'
Shares in the maker of Peugeot cars were up by 5.3% in Paris in lunchtime trading.
"PSA confirms that it is exploring a number of strategic initiatives with GM with the aim of increasing its profitability and operating efficiency, including a potential acquisition of Opel," company spokesman, Bertrand Blaise, said.
But they added "there can be no assurance that an agreement will be reached".
Any new combined firm would overtake Renault to become the second largest European carmaker, after Volkswagen.
In December 2013, GM sold its 7% stake in PSA for £250m, after plans to make cost savings from co-operating on a number of projects were not as successful as envisaged.
That failed experiment led PSA to seek a bailout from the French government and Dongfeng.
In 2009, after GM's bankruptcy the US car giant came close to selling German-based Opel, but changed its mind in order to retain a strong presence in Europe.
But the PSA announcement comes a week after GM reported a loss of $257m from its European operations last year.
That was the sixteenth consecutive loss-making year for GM in Europe, bringing its cumulated losses on the continent since 2000 to more than $15bn.