OECD warns 'no deal' Brexit would hit UK economy hard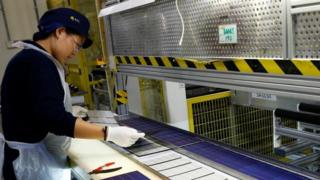 The Paris-based think tank, the OECD, has warned a break-up of Brexit talks without a deal would unleash a host of economic problems for the UK.
Its latest report predicts "no deal" would see business investment seize up, send the pound to new lows and lead to a downgrade of the UK's credit rating.
It acknowledges the outcome of the Brexit negotiations is hard to predict.
The OECD highlights other challenges for the UK, including productivity and the growth of zero-hours contracts.
It says rules should be tightened to restrict self employment to "truly independent entrepreneurs".
But its most forceful language is on the subject of Brexit.
As well as foreseeing a fall in the pound and a freezing of business investment, it says heightened price pressures would "choke off" private consumption.
It also says the current account deficit could be harder to finance, as a fall in the UK's credit rating could lead to higher interest rates to attract lenders from other countries.
The OECD's position is underlined by its view that "In case Brexit gets reversed by political decision… the positive impact on growth would be significant."
Productivity question
The group also commented that UK productivity growth had come to a "standstill", adding that the picture was weakest outside Greater London and the south east of England. It said that pattern "may lead to, or be the result of, important differences among people in terms of income and wealth, jobs and earnings, and education and skills".
It said these "may have been one of the causes of Brexit, as less-educated workers in remote regions might have perceived to benefit less from the European project".
Among its recommendations for boosting productivity are increasing policies that give more power to the regions.
A Treasury spokesperson focused on the OECD's recommendations on productivity.
"Increasing productivity is a key priority for this government, so that we can build on our record employment levels and improve people's quality of life," the spokesperson said.
"Today, the OECD has recognised the importance of our £23bn National Productivity Investment Fund which will improve our country's infrastructure, increase research and development and build more houses."
The OECD suggests the growing use of what it calls "non standard" forms of employment, including self-employment and zero-hours contracts, can be "detrimental" to the acquisition of skills and the job quality of low-skilled workers.