OECD predicts fastest global growth in six years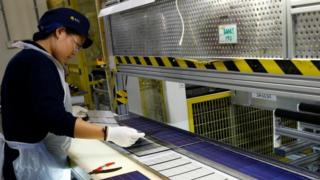 The OECD has predicted the global economy is set to grow 3.5% this year, its best performance since 2011, with growth nudging up to 3.6% in 2018.
It is a slight improvement on the think tank's 3.3% estimate, which it predicted in March.
The OECD said the recovery of trade and investment flows had offset a weaker outlook in the US.
It said UK growth forecasts of 1.6% in 2017 and 1% in 2018 remained unchanged from its March prediction.
The OECD said the UK economy will slow in the coming years as Brexit uncertainty hampers growth and consumers endure a spending squeeze caused by higher prices and lower wages.