M&S warns more stores could close and jobs go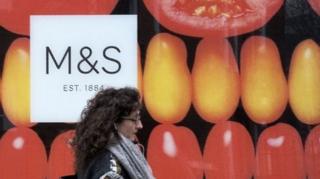 Marks and Spencer's chairman has warned it could be forced to close more stores as it battles to improve its fortunes.
Chairman Archie Norman said most of the 100 shop closures announced in May would shut within the next two years.
"I can't tell you it won't be the last," he told shareholders.
Chief executive Steve Rowe also warned "more redundancies" were "likely" as the retailer restructures in a turnaround that he has said is "vital" for the retailer's future.
However, he said the vast majority of the staff working in the stores closed so far had been relocated within the business.
Marks said in May that it planned to close 100 stores by 2022, affecting a total of 872 employees. At the time, it said 21 of these had already been shut.
Mr Norman said the size of the company's store portfolio had become "a drag on our performance".
The two M&S bosses were speaking at its annual meeting.
It was the first annual meeting for Archie Norman, who was parachuted in last year to lead a turnaround of the business.
Under its plan, M&S wants to move a third of its sales online and plans to have fewer, larger clothing and homeware stores in better locations.
Competition
Marks & Spencer said on Monday it would not provide its usual trading update at the annual meeting.
The chain said it was because Mr Norman wanted to take a more long-term view of the embattled business.
"For me the results in the next two years aren't the most important thing. We are here to deliver a profitable, growing business in five years' time," Mr Norman said at the annual meeting.
"This is probably the biggest turnaround in UK retail."
He said M&S was facing competition from online retailers as well as discounters such as Aldi, Lidl and Primark.
Blame
To cut costs and improve its operations, M&S has shut some warehouses in its distribution network.
The retailer has already closed warehouses in Warrington and Neasden, and on Tuesday said the future of its Donnington warehouse was under review.
Profits at Marks and Spencer fell by almost two thirds to £176.4m last year following a costly business overhaul.
The retailer said that a decline in clothing sales and higher costs from opening new food stores were partly to blame for the 64% fall.