Morrisons posts better-than-expected Christmas sales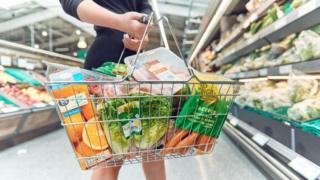 The UK's fourth largest supermarket, Morrisons, continued to ring up growing sales over the key Christmas period.
Morrisons said the increase was due to more tills being open, shorter queues, and improved stock availability.
The chain sold 2.8% more in the ten weeks to 7 January than it did for the same period a year earlier, not including new store openings.
Christmas trading was particularly strong with sales for the last six weeks up 3.7% compared to a year ago.
The chain said it had "become more competitive" and despite the rising cost of many commodities, the price of a basket of key Christmas items was the same as the previous year.
"More and more customers found more things they wanted to buy at competitive prices at Morrisons this Christmas," said chief executive David Potts.
The sales numbers were better than analysts' forecast of about 1.7% for the Christmas period.
Morrisons' like-for-like sales have risen for the last nine consecutive quarters as the chain focuses on expanding its home delivery services via link-ups with both Ocado and Amazon.
It has also expanded its premium "Best" range of goods.
Retail sales for the final quarter of 2017 were up 2.1% and wholesale sales to other outlets, including the convenience shop chain, McColls, were 0.7% higher.
Several retailers announce trading updates this week, including Sainsbury's, Tesco and Marks and Spencer.