Marmite maker Unilever drops London HQ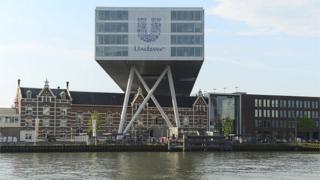 Anglo-Dutch consumer goods giant Unilever, maker of Marmite and Dove soap has chosen Rotterdam over London for its headquarters.
The firm said it would move to a single legal entity in the Netherlands in an effort to become "more agile".
Unilever's dual-headed structure has existed since 1930, when Dutch margarine firm Unie merged with British soap maker Lever Brothers.
The company said the decision over its HQ was "not about Brexit".
However, the move is being seen as a blow to the UK government as it prepares for next year's exit from the European Union.
At the same time, Unilever said it would be reorganising its business into three divisions: beauty and personal care, home care, and foods and refreshment.
The first two divisions will have their headquarters in London, while the third will continue to be based in Rotterdam.
No jobs lost
Unilever employs 7,300 people in the UK and 3,100 in the Netherlands. No jobs will be lost by the move.
A government spokesperson said: "Unilever has today shown its long-term commitment to the UK by choosing to locate its two fastest-growing global business divisions in this country, safeguarding 7,300 jobs and £1bn a year of investment.
"As the company itself has made clear, its decision to transfer a small number of jobs to a corporate HQ in the Netherlands is part of a long-term restructuring of the company and is not connected to the UK's departure from the EU."
Unilever chief executive Paul Polman told the BBC's Today programme that the move to a single legal entity was being made for "technical reasons", as the bulk of its shares – 55% – were traded in the Netherlands.
"This is not about Brexit," he said, adding that "both countries are attractive from an investment point of view".
Tax change
The company has had talks with the governments of both countries in the run-up to its decision, which was finalised at a board meeting on Wednesday.
The company's shares will continue to be listed in London, Amsterdam and New York.
The maker of Pot Noodles and Ben & Jerry's ice cream announced a review of its dual-headed structure last year, after it foiled a $143bn takeover offer from Kraft Heinz.
Speculation that it would choose the Netherlands has increased in recent months, following the proposal of a tax change by Dutch Prime Minister Mark Rutte, himself a Unilever veteran, seen as benefiting Anglo-Dutch multinationals.
Since 1930, Unilever has operated with two parent companies – a British PLC headquartered in London and a Dutch NV based in Rotterdam.
Although run as one company, the distinct legal entities have different shareholders, separate stock listings and annual meetings and are subject to different laws and corporate governance requirements.