Joe Bloggs label owner falls into administration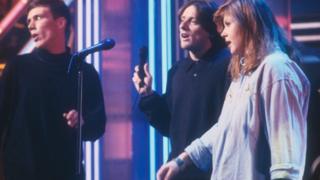 The owner of Joe Bloggs, the fashion label that became synonymous with the "Madchester" music scene of the late 1980s, has gone into administration.
Juice Corporation has made 60 people redundant and its assets are being put up for sale.
Joe Bloggs was known for its baggy denim flares, with some measuring as wide as 25-inches.
It was worn by the likes of Manchester bands Happy Mondays and Inspiral Carpets.
CG & Co has been appointed as administrators to Juice Corporation and has appointed Robson Kay to oversee a sale of the company's assets.
David Kay, a director of Robson Kay, said the assets include stock worth around £7.5m, intellectual property rights and buildings.
"We hope to achieve a sale in the near future," he said.
Joe Bloggs was set up by Shami Ahmed in 1985 when he was in his early twenties. The brand rode the wave of Manchester's cultural and musical resurgence in the late 1980s and early 1990s, making Mr Ahmed a multi-millionaire.
However, he was declared bankrupt in 2009 after running up large gambling debts.
His brother Kashif Ahmed and his sister Bushra Ahmed are listed as directors of businesses that trade as Juice Corporation.
Joe Bloggs is one of a number of brands owned by the group, including Elizabeth Emanuel.
Juice Corporation bought the name but then faced a six year court battle with Elizabeth Emanuel, who designed the wedding dress worn by the late Diana, Princess of Wales when she married Prince Charles.
Juice Corporation eventually won and used the name for a range of evening dresses, nightwear and lingerie.
It is also a licensee for Slazenger and Kangol, which counts the actor Samuel L Jackson among its fans.