Jimmy Choo bought by Michael Kors in £896m deal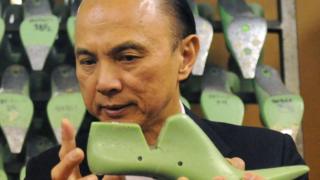 Luxury shoemaker Jimmy Choo has been bought by Michael Kors Holdings in a deal which values the firm at about £896m.
The British firm, which was put up for sale in April, had attracted attention from a number of suitors.
As well as shoes, Jimmy Choo produces a range of luxury goods, but has seen sales slow in recent years.
Under the terms of the agreement, Jimmy Choo will become a wholly-owned subsidiary of Michael Kors.
Mr Kors himself, the honorary chairman and chief creative officer of the firms that bears his name, described the purchase as "a premier fashion luxury house that offers distinctive footwear, handbags and other accessories".
He added: "We admire the glamorous style and trendsetting nature of Jimmy Choo designs. We look forward to welcoming Jimmy Choo to our luxury group."
The sale plan was backed by Jimmy Choo's main shareholder, JAB Holdings, owned by the German billionaire Reimann family.
The firm was co-founded by Malaysian shoemaker Jimmy Choo, who trained at the renowned Cordwainers Technical College in London, and former Vogue journalist Tamara Mellon in 1996.
It quickly built up a dedicated client list of musicians, actresses and royalty. The Duchess of Cambridge is a fan of the British shoe designer, as is singer Beyonce and Oscar winning actress Emma Stone.
But it has gone through a number of different owners over the years. Ms Mellon and the first of several different private equity suitors bought out Mr Choo in 2001.
Ten years later, Ms Mellon left the business to launch her own clothing line. In 2014, Jimmy Choo listed on the London Stock Exchange, by which time JAB, owned by the German billionaire Reimann family, was the main shareholder.