Hundreds of thousands sign petition over Uber London licence loss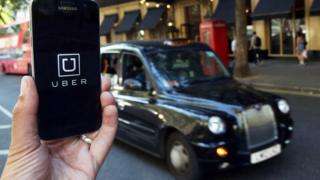 Hundreds of thousands of people have signed a petition calling for Transport for London to reverse its decision to strip Uber's licence.
More than 400,000 names have been added to the petition on Change.org after TfL said the firm would not have its licence renewed.
The regulator said the ride-hailing app firm was not "fit and proper" to hold a London private hire operator licence.
Uber says it will appeal against the decision.
The petition says: "If this decision stands, it will put more than 40,000 licensed drivers out of work and deprive millions of Londoners of a convenient and affordable form of transport."
TfL said it had taken the decision on the grounds of "public safety and security implications".
Its concerns include Uber's approach to carrying out background checks on drivers and reporting serious criminal offences.
Mayor of London Sadiq Khan said: "I fully support TfL's decision – it would be wrong if TfL continued to license Uber if there is any way that this could pose a threat to Londoners' safety and security."
Uber claimed the move "would show the world that, far from being open, London is closed to innovative companies".
One driver with Uber in London said: "I don't think it is a fair decision. Uber offers a flexible schedule, and a weekly income."
And Twitter user @Gabbysalaza_ said that she was "annoyed" at the decision as Uber allowed to her to get out of "uncomfy" situations if out at night.
Uber's licence is due to expire on 30 September.
It has 21 days to appeal against TfL's decision and can continue to operate while any appeals are ongoing.
Some 3.5 million passengers and 40,000 drivers use the Uber app in London.