House prices still growing faster than inflation, says Halifax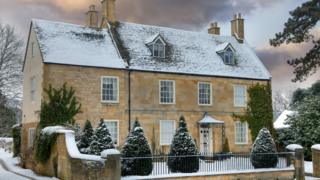 House prices across the UK are still growing faster than the general rate of inflation, according to the country's largest lender.
The Halifax said that prices rose by 3.9% in the year to the end of November, down from 4.5% in October.
Despite the slowdown, the pace remains above Consumer Prices Index (CPI) inflation, which is currently 3%.
However, rival lender Nationwide said last week prices had risen by just 2.5% over the past year.
'Imbalance'
According to the Halifax, the average house or flat in the UK is now selling for £226,821.
"The imbalance between supply and demand continues to support house prices, which doesn't look like changing in the near future," said Russell Galley, the managing director of Halifax Community Bank.
However, he added that house price growth was likely to slow in the long term.
"Further ahead, increasing affordability issues, as price increases continue to outstrip wage growth, are likely to curb housing demand and cause price growth to ease."
The Halifax said that the changes to Stamp Duty for first-time buyers announced in last month's Budget would help to stimulate demand in London and the South East.
For properties costing up to £500,000, first-time buyers will now pay no stamp duty on the first £300,000.
However, other data points to a continuing slowdown in the market.
In October, the number of home buyers being granted mortgages fell to its lowest for over a year, according to figures from the Bank of England.
"Housing market activity is currently muted and faltering," said Howard Archer, chief economic adviser to the EY Item Club.
Samuel Tombs, chief UK economist at Pantheon Macroeconomics, said the Halifax figures were at odds with other indicators, such as surveys from Nationwide and Rightmove.
"Halifax's suggestion that house prices are surging again conflicts with virtually every other indicator we track," he said.
---