GoCompare advert encouraged four-year-old to eat coins, says watchdog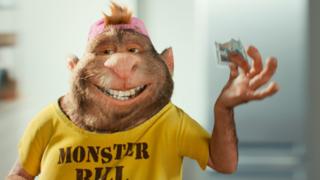 A television advert from comparison site GoCompare has been banned from daytime broadcast because of a "dangerous practice".
The commercial featuring a cash-eating monster prompted a complaint from a mother of a four-year-old child who swallowed coins after watching it.
The Advertising Standards Authority ruled the ad might encourage young children to attempt to swallow money.
GoCompare accepted the ruling and said: "We understand the concern."
The ad featured a woman being shocked to find a small animated monster eating the cash from her neighbour's purse.
The neighbour explained that the monster was her home insurance bill, to which the woman dramatically exclaimed: "It's eating all your money!"
But after her four-year-old copied the monster, one mother complained that the ad could encourage emulation from younger children.
Dangerous practice
The ASA agreed, saying: "The ad might encourage young children to attempt to swallow money themselves, which was a dangerous practice to emulate."
The advertising watchdog added: "There was a risk that the ad would cause harm to younger children."
As a consequence, it demanded that the advert be given a 19:30 timing restriction.
GoCompare said it was happy to comply.
A spokesman said: "Our advert – featuring Monster Bill – was never designed to appeal to children, and while we believe it is unlikely that the advert would influence a child to copy the character, we understand the concern."
He added: "Monster Bill represents the money that is being needlessly spent on overlooked insurance and energy bills, and we are currently exploring new ways to depict the way that Monster Bill wastes people's hard-earned money. We are open to suggestions from our customers too."