GM's US workers to get $12,000 bonus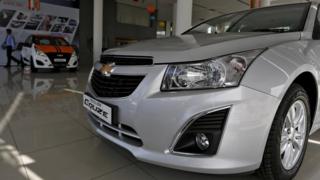 Workers paid hourly at General Motors in the US will receive bonuses of $12,000 (£9,700) after the firm made a profit of $12bn in North America.
The United Automobile Workers union negotiated a profit sharing deal in 2011.
It is worth up to $1,000 per $1bn of profit the company makes in the continent.
However, net profit for the whole of GM dropped 2.7% last year to $9.43bn after foreign exchange losses.
A jump in sales in mid-size pick-up trucks and SUVs aided sales in the US. Chevrolet was the fastest growing US GM brand in 2016, increasing its share of the US retail market by 0.5 percentage points.
A year earlier, payments of up to $11,000 were awarded to union workers after $11bn of North American profits were posted. The award is based on working more than an average of 35 hours per week during the year.
Record sales
In Europe, the company reported a narrower loss of $257m, compared with $813m in 2015, as sales rose.
GM sold a record 10 million vehicles in 2016, up 1.2% from 2015, with 3.04 million vehicles sold in the US.
In China, deliveries rose 7.1% to a record 3.87 million vehicles and in Europe, its Opel and Vauxhall marques posted a 4% sales increase.
GM said fourth-quarter net profit fell partly because of $500m in currency losses, mostly from the decline of the pound.
The carmaker forecast profit per share in 2017 would be the same or slightly better than last year.