GlaxoSmithKline on target thanks to HIV and lung drugs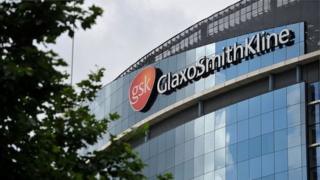 Pharmaceutical giant GlaxoSmithKline saw third quarter sales rise 4%, helped by demand for new HIV, lung and meningitis products.
This keeps it on track to hit its full-year targets as new boss Emma Walmsley refocuses its drugs range.
Sales rose 4% to £7.8bn, while total operating profit rose 31% to £1.9bn.
At constant exchange rates, its performance was more muted, with sales up 2%, while total operating profit increased by 27%.
Ms Walmsley said: "Performance in the quarter showed continued progress, with sales growth and improved operating margins.
"We remain on course for our full-year earnings guidance, with cash generation continuing to improve."
At constant exchange rates, 2017 earnings are expected to rise between 3% and 5%, the company said.
Third-quarter profit before tax jumped 25% to £1.7bn.
Product launches
GSK saw strong demand for HIV drugs and more demand for new respiratory drugs, while the failure of generic companies to win US approval so far for copies of lung inhalant Advair also boosted profits.
Growth in the group's big consumer health division was better than some analysts had predicted, but vaccine sales were flat.
Ms Walmsley, who took over as chief executive in April, has promised to improve drug research productivity by narrowing GSK's focus to key areas such as HIV and respiratory medicine.
Her immediate priority, however, is the launch of three new products.
A shingles vaccine and a three-in-one lung drug have already won US regulatory approval, and the third, a dual-drug regimen for HIV, could get approval by the beginning of December.
The UK's biggest drugmaker has lagged behind rivals in producing multi-billion-dollar blockbuster products in recent years.
GSK was helped from June 2016 by a weaker pound, which inflated overseas income.
However, the currency boost dissipated in the third quarter.