GKN rejects £7bn takeover bid from Melrose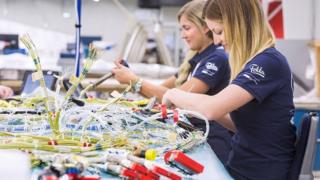 Shares in GKN, one of the UK's biggest engineering firms, have soared after it rejected a bid that values the company at £7bn.
Melrose Industries made the unsolicited offer of 405p a share on 8 January.
Shares in GKN – which employs 56,000 people globally and had sales of more than £9bn last year – jumped almost 25% to 415p, giving it a £7.1bn valuation.
The GKN board said the offer was "entirely opportunistic" and "fundamentally" undervalued the firm.
Melrose shares also rose sharply, adding 11% to 239p.
GKN also said on Friday that Anne Stevens, its interim chief executive, would remain in the role permanently.
Kevin Cummings had originally been due to take up the role on 1 January, but in November the company announced it was looking for "alternative leadership".
The decision followed a further £130m writedown in GKN's aerospace division, which Mr Cummings had been running.
"Operational challenges" at its North America-based aerospace business were one factor behind a profit warning in October.