Financial shares bolster FTSE 100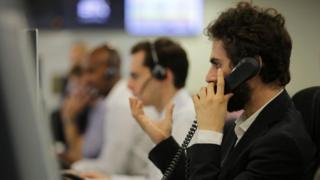 The UK stock market edged upwards as trading began, with shares in banks and insurers opening higher.
The benchmark FTSE 100 share index was up just 3.63 points at 7,192.45 a few minutes after opening.
Insurance firms were in favour, with Aviva up 1% and Prudential 0.8% higher. Barclays was also one of the top risers, with its shares up 0.8%.
In the FTSE 250, Thomas Cook fell 6.6% after the travel firm said it was "cautious" over this year's prospects.
The company said it had benefitted from rising demand for holidays in Greece, but added it was facing tough competition over trips to Spanish island resorts.
Chief executive Peter Fankhauser said: "We remain cautious about the rest of the year, given the uncertain political and economic outlook."
On the currency markets, the pound rose 0.2% against the dollar to $1.2562 and was also 0.2% higher against the euro at 1.1750.