Ex-BHS boss guilty over failure to provide pension data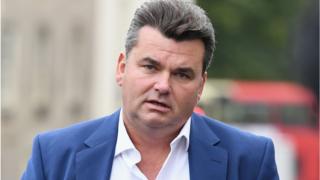 Dominic Chappell, who was in charge of BHS when it went bust in 2016, has been found guilty on three charges of failing to provide information demanded by the Pensions Regulator.
The watchdog accused him of neglecting or refusing to hand over information about BHS's pension schemes.
The schemes had 19,000 members and a shortfall of £571m when BHS collapsed.
Mr Chappell, a former bankrupt, bought the department store chain from Sir Philip Green for £1.
The Pensions Regulator alleged that Mr Chappell failed to provide information three times about company's pension schemes.
Appearing in Brighton Magistrates Court, Mr Chappell argued that he didn't have the information available because he'd been shut out of his office at BHS after administrators took over.
He also said tax officers had raided his home, removing computers and files.
However, the judge, Mr William Ashworth, said that he was not a credible witness, that parts of his explanation made no sense and that others he simply did not believe.
The offences he has been found guilty of carry unlimited fines for each count.
The judge has adjourned to a later date, 19 January in Winchester, to consider the financial aspects.
The highest previous fine in a case such as this was £5,000.
Administrators were called in to BHS after only a year under Mr Chappell's ownership, leaving 11,000 people out of work and endangering the pensions of 19,000.
The Pensions Regulator is said to be seeking £10m from Mr Chappell to shore up BHS's stricken pension fund, to add to £363m already obtained from Sir Philip.