Deputy governor sorry for calling economy 'menopausal'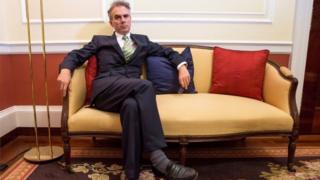 The Bank of England's deputy governor has apologised for saying the UK economy is entering a "menopausal" era.
Ben Broadbent had used the phrase in an interview with the Daily Telegraph as a metaphor for economies that are "past their peak".
Later he said he was sorry for the "poor choice of language" and any "offence caused".
He said productivity affected "every one of us, of all ages and genders".
The comments sparked a backlash from women on Twitter who objected to his use of the phrase.
Nikki Garnett, who writes a blog for women over 40, said: "How dare you Ben Broadbent?
"Menopausal women have not lost their potency, in fact they are just reaching it… as I suspect you will find out in reactions to your anachronistic comment."
In his interview, Mr Broadbent said the UK economy was slowing down after a peak in productivity from the digital revolution.
He suggested that a "pause" between two technological leaps forward – akin to one experienced by late-Victorian industrialists from steam to electricity – could be behind a recent slump in productivity blamed for stagnating wages.
However, he said the economy could be awaiting its next big breakthrough, possibly as a result of Artificial Intelligence.
The economist sits on the Bank of England's Monetary Policy Committee (MPC), which has been criticised for having only one female member on its nine-strong board.
Mr Broadbent said he had been trying to explain the meaning of the word "climacteric" in the interview – a term used by economic historians to describe a period of low productivity growth during the 19th century.
He said the word had the same Latin roots as "climax" and "means menopausal, but it applies to both genders".