Debenhams sales hit by 'Beast from the East'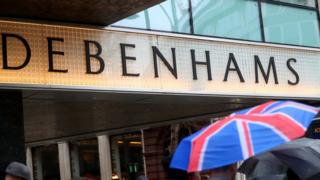 Debenhams has reported another slide in profits and sales after freezing weather in late February temporarily closed 100 stores in the UK.
The struggling department store chain said like-for-like sales fell by 2.2% in the 26 weeks to 3 March amid a "challenging" UK market.
Debenhams said the cold weather reduced sales by about 1% in the period.
Chief executive Sergio Bucher said it had "not been an easy first half", as pre-tax profit plunged 84% to £13.5m.
In February, Debenhams said it planned to cut 320 store management jobs in an attempt to cut costs after disappointing Christmas trading resulted in a profit warning.