BP profits show signs of recovery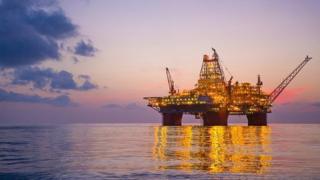 Oil giant BP saw profits double in the last three months of 2016 on the back of slightly higher oil prices and more cost-cutting.
Underlying replacement cost profit – the company's preferred measure – was $400m, up from $196m a year earlier.
BP took another charge of $799m for the Deepwater Horizon disaster, bringing total charges to $62.6bn.
"2016 was the year we made significant strides" for future growth, said chief executive Bob Dudley.
He said in a statement that the costs and liabilities from the Deepwater Horizon oil platform disaster were "now substantially behind us".
For the year as a whole, underlying replacement cost profit – which strips out fluctuations in the value of oil stocks – fell to $2.58bn, down from $5.90bn in 2015.
BP said it would balance its books at an oil price of around $60 per barrel by the end of the year.
Oil companies have been selling assets and cutting costs to adjust to lower prices. Brent crude, the international benchmark, averaged $44 a barrel last year, the lowest in 12 years.
Full-year capital expenditure is now expected at the higher end of BP's previous guidance of $16-17bn, a possible sign that the company feels that crude oil prices are starting to stabilise.