Bond trading slump hits Citigroup and JPMorgan Chase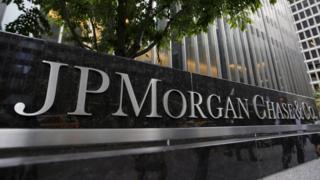 Two of America's biggest banks have been hit by a drop in bond trading revenue in the three months to September, but profits still rose.
JP Morgan Chase profits rose 7% to $6.7bn (£5.1bn) compared with the same period last year, while Citigroup profits were up 8% at $4.1bn.
The banks had warned that trading revenues would be weaker compared to a post-Brexit surge last year.
JP Morgan shares slipped in pre-market trade on the news.
At JP Morgan revenues rose just 2.7% to $26.2bn, as revenue from trading fell 21% year-on-year.
However, profits were boosted lifted by its consumer and retail lending division, which benefited from higher interest rates and strong credit card sales and payment processing.
Chief executive Jamie Dimon said: "The global economy continues to do well and the US consumer remains healthy with solid wage growth."
At Citigroup, revenues were 2% higher at $18.2bn year-on-year.
The bank said revenue from fixed income trading fell 16%, but unlike JP Morgan, its revenue from equities trading was higher.