Barclays boss Jes Staley faces penalty for 'conduct breach'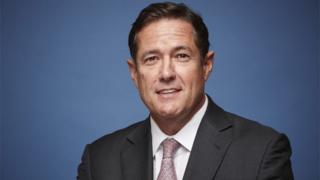 Barclays boss Jes Staley is facing a fine by UK regulators for breaching rules when he tried to identify a whistleblower at the bank.
The Financial Conduct Authority (FCA) and the Prudential Regulatory Authority (PRA) began their probe into Mr Staley's conduct a year ago.
Mr Staley, who has apologised for his conduct, has been given time to appeal.
Barclays said there was no suggestion Mr Staley acted with "a lack of integrity".
A statement from Barclays said the FCA and PRA "are not alleging he acted with a lack of integrity or that he lacks fitness and propriety to continue to perform his role as group chief executive officer".
It also said the two bodies would not take enforcement action against Barclays.
But Barclays will be required to report to the FCA and PRA on certain aspects of its whistleblowing programmes.
Barclays said that its "management continues to have unanimous confidence in Staley and continues to recommend his re-election as a director at the Barclays annual general meeting on May 1".
Personal issues
The issue dates back to June 2016, when members of the Barclays board received an anonymous letter raising concerns about a senior employee who had been recruited by Barclays earlier that year.
The letters, which were being treated as whistleblows, raised concerns of a personal nature about the senior employee, and Mr Staley's knowledge of and role in dealing with those issues at a previous employer.
It also raised questions over the appropriateness of the recruitment process followed on this occasion by Barclays.