Baidu to share self-drive car technology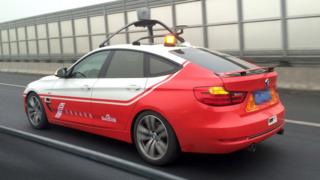 Chinese internet giant Baidu has said it will share much of the technology it has created for its self-driving cars.
The firm predicted the move would help drive the development of autonomous vehicles.
Called Apollo, the project will make a range of software, hardware and data services available to others, especially carmakers.
Other firms in this sector, like Tesla and Google, have traditionally kept key developments a closely guarded secret.
'Greater innovation'
Baidu, often described as China's Google, has been developing self-drive vehicles since 2015.
Making the announcement ahead of the Shanghai Auto Show, it said technologies for use in restricted test environments would be available as soon July.
There will then be a gradual roll-out of other technology, with an aim to offer its full range of developments to support self-driving for highways and city roads by 2020.
In a statement, Baidu's group president Qi Lu said the move was being made "in order to encourage greater innovation and opportunities, making better use of our technology to drive the evolution of the entire industry".