Asda sales drop continues to lessen in fourth quarter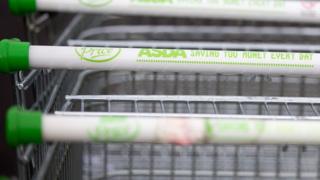 Supermarket giant Asda has finished its year by reporting another drop in quarterly sales.
However, this was not as sharp a fall as in previous quarters.
Sales excluding fuel at stores open for more than a year fell 2.9% in the fourth quarter.
That was better than the 5.8% slide in the third quarter, and a significant improvement on the 7.5% slide reported by the supermarket for the three months to June.
Asda, which is owned by Walmart, the US retail giant, has battled to retain its place in a fiercely competitive market with more store openings from German discounters Lidl and Aldi.
Walmart chief executive Doug McMillon said: "In the UK, we faced some challenges this past year and we're addressing this with urgency.
"I'm glad store sales improved during the fourth quarter, but we have a lot of work to do."
Asda chief executive Sean Clarke said the supermarket had gained more than 140,000 customers in the fourth quarter.
He added that Asda had "sharpened" its prices and focused on its ranges and the availability of its products.
Mr Clarke was brought in as chief executive in July last year as part of an attempt to revive the supermarket's fortunes.
In June, Walmart had said Asda would shift from protecting profit to protecting market share.
Walmart US sales rise
Meanwhile, Walmart reported higher-than-expected US sales after a 29% boost to online sales and more people coming to its stores.
Its shares rose more than 3% in pre-market trading.
US comparable sales excluding fuel rose 1.8%, beating analyst estimates of 1.3%.
US net sales rose 2.8%. However, Walmart International net sales dropped 5.1% after currency fluctuations.