Amazon shortlists 20 metropolitan areas for new headquarters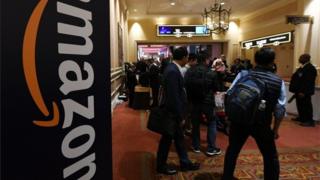 Amazon has released a shortlist of the 20 North American urban areas to be chosen to become the retailer's second North American headquarters.
The proposed site is expected to cost more than $5bn (£3.6bn) and create 50,000 jobs. Cities across the US have placed bids for the contract.
"Getting from 238 to 20 was very tough," the Seattle-based online shopping giant said in a statement.
Toronto was the only non-US city to make it to the list.
The others are Atlanta, Georgia; Austin, Texas; Boston, Massachusetts; Chicago, Illinois; Columbus, Ohio; Dallas, Texas; Denver, Colorado; Indianapolis, Indiana; Los Angeles, California; Miami, Florida; Montgomery County, Maryland; Nashville, Tennessee; Newark, New Jersey; New York City; Northern Virginia; Philadelphia, Pennsylvania; Pittsburgh, Pennsylvania; Raleigh, North Carolina; and Washington DC.
Amazon announced in September that they need a second headquarters, after they outgrew their Seattle hometown where the company was founded in 1994 and now employs more than 40,000 people.
In a press release, the tech giant said it had reviewed more than 200 proposals from across North America for its second headquarters.
A wave of local officials have wooed the company with tax incentives and other benefits.
The company had previously said it would only consider metropolitan areas with one million residents or more.
A final decision is expected to come later this year.