Airbus chief Tom Enders leaves after power struggle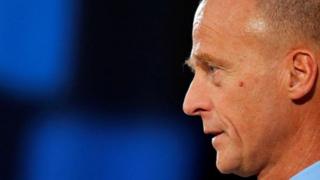 European planemaker Airbus has unveiled a shake-up of its top management team.
Chief executive Tom Enders will not seek re-election when his term expires in 2019, the company said.
Meanwhile, Fabrice Bregier, chief operating officer and head of the commercial aircraft arm, will step down in February.
Guillaume Faury, currently chief executive of Airbus Helicopters, will succeed Mr Bregier as president of the main commercial aircraft division.
Mr Bregier had long been seen as the natural heir to Mr Enders, although there have been reports of tensions between the two. Plans to find an successor to Mr Enders are underway, Airbus said.
The company is already about to lose its chief salesman of 20 years, John Leahy, who is retiring.
Airbus said the board had acted to secure an orderly succession at the world's second-largest planemaker, which has been beset by rivalries and abrupt changes in the past.
"We are confident we have taken the right decisions to ensure Airbus' long-term stability and future success and we fully support Tom Enders to lead Airbus through this generational handover with our full support," said chairman Denis Ranque.